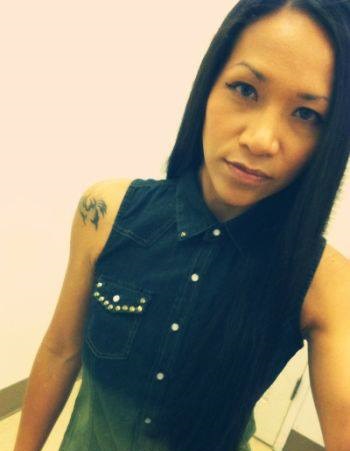 About Lek Borja
Lek Borja is an interdisciplinary artist and poet based in Los Angeles, CA. Her writings have appeared in national and international journals: Lantern Review, San Francisco Press' Lady Jane Miscellany, REM Magazine, Society for Curious Thought, among others. Her chapbook of experimental poetry, Android, was published in April 2011 by Plan B Press, and was acquired by the Yale University Library for their special collections. She has exhibited or will be exhibiting her art works in L.A. and out-of-state galleries: the Loft at Liz's, FrontierSpace, CA+T.
Education
Bachelor of Arts, Dual Concentration: Fine Art and Creative Writing, 
Antioch University Los Angeles, Culver City, CA, 2012.
Exhibition Highlights
2014, Aug.: Hidden: Absent Presences, Center for Art and Thought (CA + T), Los Angeles, CA
2012, Aug. – Nov.: Fair Trade, the Loft at Liz's Gallery, Los Angeles, CA 2012, June – Aug: Diverted Destruction, the Loft at Liz's Gallery, Los Angeles, CA 2011, Aug.: To Missoula, With Love, FrontierSpace, Missoula, MT 2010, Sept.: Venice Art Crawl, Hotel Erwin Gallery, Venice, CA
Art Publications
2014, Apr.: {m} magazine, community, UC Berkeley, CA (sound art)
2011, Apr.: The Hoping for Hope Art Project, MI (sculpture)
2010, Apr.: {m} Magazine, Our Resilience, UC Berkeley, CA (illus.)
Selected Poetry & Creative Nonfiction Publications
2013, Aug.: Society for Curious Thought, "Writer, Resume," London, UK
2011, Sept.: Marco Polo, "Off the Earth," Los Angeles, CA
2011, Sept.: Two Hawks Quarterly, "Android 1. – 3.," Culver City, CA
2010, Dec.: Lantern Review, "The Senses Center," Lexington, KY
2010, Dec.: Two Hawks Quarterly, "Seized Lies My Body," Culver City, CA
2010, Nov.: REM Magazine International, "First Date," Aotearoa, New Zealand, NZ
2010, Aug: poeticdiversity, "To Move A Man," Los Angeles, CA
2010, June.: Lady Jane's Miscellany, "Sound," San Francisco, CA
2008, Apr.: {m} Magazine, "How to Gut a Fish With Bare Hands," UC Berkeley, CA